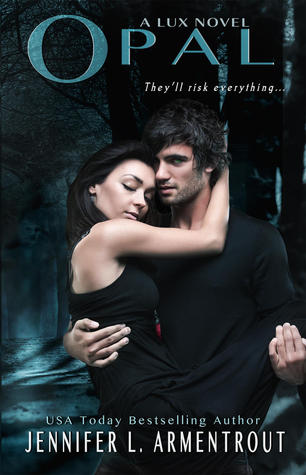 Opal (A Lux Novel, Book 3)
Jennifer L. Armentrout
Rate: 4
So this post may not be in the most sensible order, but just bear with me. The slight disorganization of this post is not a reflect of the overall character of the novel.
The ending = perfect: So the ending of the book offers a great twist and cliffhanger that has me excited for the next book. It's  action-packed enough that I kept reading and gobbling up the story until there was nothing left to read, but not so action-packed for me to throw it at the wall because it left more questions than answers  or left me unsatisfied. The ending offers enough action and drama to satisfy anyone who kept notice of all the ominous sayings and situations throughout the novel while leaving an obvious opening for the next book. I've started off discussing the ending because I struggled to finish the story because it didn't have a flow that kept me continuously engage. I have to admit that at one point I had to skip to the end and read the last 2 pages of the book to ensure that at the work was worth it. It was upon reading these last 2 pages that I became curious as to how Katy and the Luxen wound up in such a predicament, which drove me to finish the novel. Otherwise, I might still be somewhere at the beginning wondering when it would end.
Is there such a thing as too much romance?: At first, I didn't think of the Lux series as a romance: in the first book, Katy and Daemon despised each other; in the second, they began having and expressing feelings for each other; the third made me want to throw up with all of their love flaunting. I'm not against love. I'm not a hater. Some people may even describe me as a hopeless romantic. But this was too much. Right from the first page Katy reminded me of Bella from Twilight, which isn't a good comparison. "I really had no idea why Dawson, the twin brother of the boy I was madly, deeply, and quite possibly insanely in love with was perched on the edge of my bed." I repeat I am not against love and I understand that teen love is super complex, but why does it seem that Katy, who had the potential to be a strong female character, has made a regression? There must be a way for people to love and be loved without it being their sole focus. Though I do give Katy kudos for realizing that she might be insane, Bella never did. However, I tried not to let this romance factor overshadow my reading experience, which is why I still rate this book a four though I'm complaining right now.
Katy + Blake = Disaster: Katy has known since the last book not to trust Blake and she repeats multiple times during this book that she shouldn't trust him so why does she still end up played by him? I don't think Katy is stupid, but she was a little foolish and gullible throughout the story. It's so hard not to put a spoiler right now. To put it simply, Blake does and says things that should put Katy on edge and make her want to investigate his meanings and motives, but a number of times she pushes the thought away instead focusing on other situations or being with Daemon. In the end it costs her, but some of it could've been prevented if she had taken the time to think.
Daemon = next book boyfriend: In this book, I saw a side of Daemon that made him seem amazing. I mean I'd rather he not have the arrogance or the alien nature, but otherwise I love that he is kind, witty, loving, protective, hot. There are so many dimensions to Daemon, which is why I sort of understand why Katy is always swooning over him. I wish I had a boyfriend that would just be there as I cry or engage in witty banter with me to make me smile, but sigh, these guys only exist in books. Here I thought that Tobias from Divergent would be my book boyfriend for awhile, but move over Tobias hello Daemon, if only he were real (but minus that alien stuff because I can't handle that type of drama).
Overall, the book is good and worthy of its 4 rating. There were parts that I disliked and/or were kind of dry, but nothing that would stop me from finishing this series. It hasn't let me down so far.