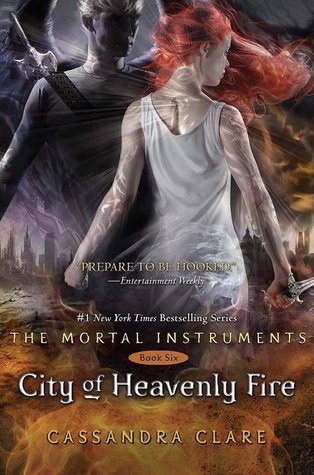 City of Heavenly Fire (The Mortal Instruments, Book 6)
Cassandra Clare
Rate: 3
Woo, I finally finished! That book was long, seven hundred and twenty-five (725) pages long, which is why I will preface this post by saying that the length of the book did cause me to drop a star from the rating. I don't have anything against long books- I actually read a lot of them- but while reading I felt that much of this lengthiness could have been avoided.
I guess since I'm complaining about length I'll start there. In this book, the reader is introduced to Emma (and gang), who, for anyone keeping track of Cassandra Clare's series, is the protagonist of The Dark Artifices series, a companion series to The Mortal Instruments. This means that City of Heavenly Fire is the end of one series and the prequel to another. I actually didn't mind that Clare incorporated Emma into the story- she proved to be a useful character- but there were some scenes involving her that were pointless; they focused too much on setting up Emma and the next book instead of finishing off this series. I think if Clare had been a bit more critical about which scenes to add then maybe 50 or so pages could've been shaved off. Sorry, but I care more about what's going on with Clary and gang and the Sebastian problem and could have done without some of the Emma, Consul, and prisoners scenes.
Additionally, I want to talk about Emma as a character. As I previously mentioned,  Emma was a valuable character and she demonstrated the strengths and weaknesses of a Shadowhunter, but I couldn't relate to her. Not only was she like a budding Clary without the "she's a mundane" excuse, but she was a pre-teen whose actions annoyed me. Maybe it's just me, but I'm used to central characters in YA novels being the ages 15-18, high school age, so encountering a 12-year-old and reading her actions and reactions just made me want to throw the book (but I didn't). I just don't know if I'll be able to make my way through the campion series since I already dislike Emma. I'd need to see a lot of maturity from her to make it through.
There are many more things I can say about this book, some simply petty, but the next big thing I want to discuss is a scene that happened at the end with Simon. I won't spoil what happens (if you want to know read the book 😉 ), but I will say that it had me tearing up and I had to force myself not to cry. I don't understand why authors wait until the last 150-200  pages (unless it's a shorter book) to fill the story with a bunch of action and emotional scenes. It's like they torture us with dullness all through the beginning and middle, but then at the end hit us with so many feelings. While the story did end on a happy note, for that one section I was glad no one was around while I read because I was a mess.
Lastly, I want to discuss a quote to anyone who may read this post. Towards the end Sebastian says, "You could save a whole world by damning a single soul. Your own. So tell me, what is your decision?" My question is: Could you sacrifice yourself to save someone else? What conditions would have to be present to sway you one way or another?