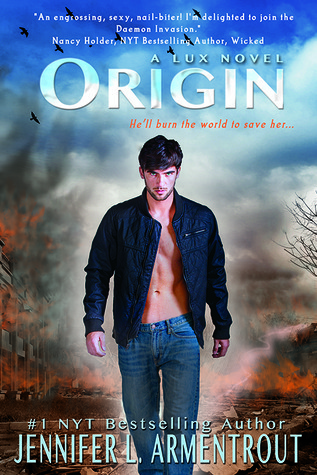 Origin (A Lux Novel, Book 4)
Jennifer L. Armentrout
Rate: 4
"Daemon will do anything to get Katy back."
In the beginning of the novel, when we're exposed to Daemon's point-of-view, Daemon throws caution to the wind in order to get to Katy. He knowingly goes against the wishes of the Luxen and his family. Normally, I'd reprimand a character for being so reckless because obviously a rescue mission without a plan will end in disaster, but I think this behavior is befitting of Daemon. In the last two books, we watched as Daemon's feelings for Katy intensified and as he redeemed himself for his actions in the first book so it's only right that his feelings would increase and he'd continue to prove himself in this book. If Daemon had taken the more strategic route, then I would have questioned the depth of Daemon's feelings and whether his actions had been a prank. Therefore, I give Daemon a pass on his recklessness because any other response would've shattered the Daemon-Katy relationship for me.
"All Katy can do is survive."
In this book, Katy is in the hands of Daedalus and not dead, which I don't consider a spoiler since I included the above quote and there'd be no reason for a fourth book if Armentrout wanted us to assume that the Arum killed Katy at the end of the third book. So Katy is a prisoner and is trying not to become the next Beth, but Daedalus is really pushing her buttons. Nonetheless, Katy proves to be a strong female character as she holds strong to her values and attempts to foil  Daedalus's plans. She may not win every battle, but she doesn't give up either.
 "Together, they can face anything."
Daemon and Katy are finally reunited and that's when all the juice action begins. Secrets are revealed, casualties occur, and things are blown up all in the fight between Luxen and Daedalus. Of course, there are moments when actions and secrets are completely predictable, but that doesn't overshadow the action and momentum of the story. Within the last hundred or so pages (as with most novels) the story becomes a super page-turner and I began questioning myself on how hungry I was and whether I actually needed to sleep in order to keep reading and finish the book. And as expected the story ends in a cliffhanger that has me all 
for the next book. How far away is August 5th? Ugh, too long.