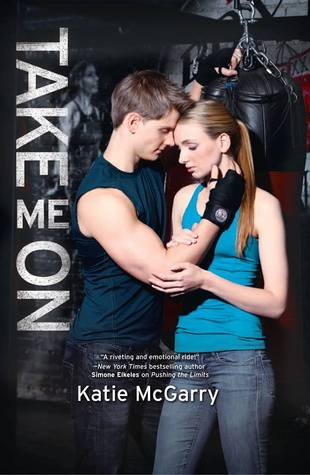 Take Me On (Pushing the Limits, 4)
Katie McGarry
Rate: 5
To begin, Take Me On is the fourth book in the Pushing the Limits series. I haven't read all the books in the series, but that's ok because the series is more of a collection of novels that share the same world than it is sequels to a story. I have read Dare You To though, which is just as fantastic as this book.
I really enjoyed Take Me On because it's different from the average teen romance story. Take Me On is darker because both protagonists, Haley and West, have to deal with their dysfunctional families, inner demons, and whatever budding feelings that are developing for the other. To me, Take Me On is more realistic than most teen romance stories because Haley and West are dealing with big issues that people coming from a similar background also face; their problems are bigger than best friends having a crush on the same person. Yes, there are moments when they put themselves into these difficult situations and you want to mad at them, but it doesn't take away from the emotional roller coaster the story takes you on, which makes Haley and West similar and relatable.
In this story, Haley and West aren't just being together. They growing into adults and figuring out who they are, which I don't see often in other romance books. Sure, they have their moments when they're so wrapped up in each other that it seems like they've forgotten about their problems, but they always return to reality and drive home the idea that people can persevere through the tough times and that real love can survive through the tough times.
Just to reiterate myself, I loved Take Me On and anyone who enjoys a darker romance should read it. Plus, if you enjoy any of the books in this series, you should also try Perfect Chemistry, which is dark romance trilogy following three brothers.