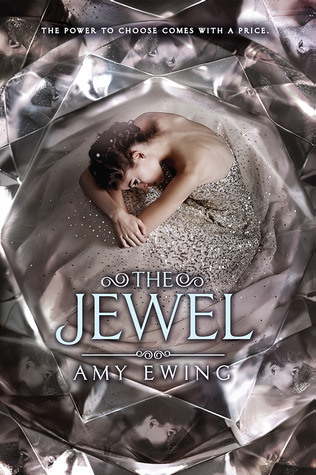 The Jewel (The Lone City #1)
Amy Ewing
Rate: 3
So I had attempted to make this post like my other posts where it's more or less structured in a paragraph format, but when I first started writing this post I was also writing a lot of essays and research papers so I felt like I was forcing the words and began disliking blogging. I don't want to dislike this blog. So instead of forcing the words out, I took a break from reviewing, which you can't tell because I had posts queued just in case this happened, and now in the calm between the end of essay writing season and the beginning of finals season (Yay college!), I've decided that this post will more or less be a small list of thoughts I had while reading The Jewel.
Without further ado, my thoughts on The Jewel:
Surrogates from The Jewel are similar to tributes from the Hunger Games. Both groups are children being exploited for the benefit and entertainment of the elite.
I thought because of other similarities to the Hunger Games Violet would be like Katniss, but she wasn't. She had her moments when she behaved like a strong female character, but after meeting Ash, she became a disappointment. I found myself going back and forth between rooting for Violet and being exasperated with her. She had the potential to be an admirable protagonist, but she let a boy distract her.

Yes, this is indeed a sub-point. Is a woman's tragic flaw actually love? So often books are written where one moment the woman is being all kick-ass, but then she meets a man and all of a sudden she's succumbing to her desires and "falling in love" with him and just isn't doing what she's supposed to be doing. Am I the only one offended that so often women are presented as less than what they could be because they met a man? I applaud Katniss, and Suzanne Collins because she created the character, for having an interest in guys and caring for guys, but ultimately not deviating from her heroine journey for love. She may consider dropping her responsibilities, but she doesn't let a man or her love for a man dictate her decisions.

The Jewel is an ironic name for a city where under the materialistic glamour of the wealthy, there is greed, gossiping, murder, and human trafficking. The city's not so beautiful when you shed some light on all it's faults.
So that's all I have about the Jewel. After the progressing of this story and the way it ended, I can't wait to read the novella that will be in Raven's POV, which will be released July 28th 2015, and the second book in the series, which doesn't have a release date or title at the moment. 😦