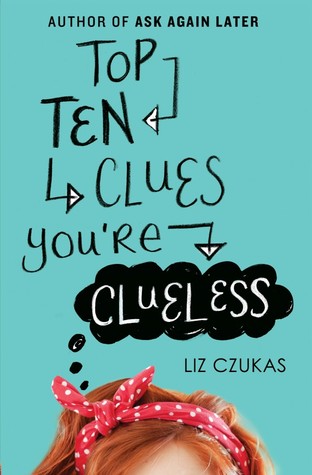 Liz Czukas
Rate: 3
This review will be pretty short because I don't have much to say about the book and what I do want to highlight is all interrelated. First, Top Ten Clues You're Clueless is a lot like The Breakfast Club, so if you're a fan of the movie, then you'll like this book. This is because the "You're Clueless" part of the title references Chloe and her co-workers learning more about each other while being held at work on Christmas Eve. As each person reveals more about him-/herself, he/she shatters the stereotypes and presumptions his/her co-workers held concerning that person. With each story, Chloe realizes that she never really knew her co-workers yet she'd create mental lists about things you should about each person. As the story progresses, it highlights the lesson that, as a society, we shouldn't judge people based on their appearance and stereotypes we're familiar with and that we never truly know someone until we take the time to learn about him/her.
I also want to talk about the "Top Ten Clues" part of the title. At first you'd think that this part of the title is referencing the secondary plot, in which Chloe is trying to figure out who stole the charity money, but the story isn't set up like a mystery or crime novel so this conclusion doesn't fit. However, Chloe does create a number of lists, about everything and anything, that better fit this part of the title. And with what I discussed previously, Top Ten Clues You're Clueless comes out to be Lists I Created About People I Didn't Really Know and How I Was Proven Wrong, not as nice of a title as the actually title, but that's what the story is about.
Nonetheless, this book is a cute story about building friendships while demolishing stereotypes and ill-conceived presumptions.