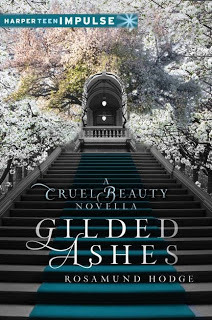 Gilded Ashes (Cruel Beauty Universe # 1.5)
Rosamund Hodge
Rate: 3
There's not much I want to say about Gilded Ashes other than read it. This isn't your typical Disney Cinderella. This story is dark. In Gild Ashes, Maia (Cinderella) lives a terrible life where she puts the well-being and safety of others before her own. Even when given a chance at love, Maia helps her stepsister instead of indulging herself. Maia's behavior is nothing like your typical Cinderella and you'll find yourself liking her because of how strong she is.
 Maia'a relationship with her mother: Maia is haunted by her late mother's ghost. Before she died, Maia's mother made a deal with the Dark Lord so she could continue to watch over Maia when she was gone. Of course, this deal comes with a price. The price for the mother is irrelevant, but the impact of the deal on Maia is part of the reason why this story is so dark. Whenever someone hurts Maia, which includes more than physical pain, and Maia expresses this pain, her mother uses demons to torture or kill the person that hurt Maia. After Maia's mother releases her wrath on one of the servants, Maia reasons that the best way to save people from her mother is to pretend that nothing hurts her and that she's always happy. So even when Maia's stepmother says means things to or about her, Maia spins the situation so that she convinces her mother that either it didn't bother her or her stepmother expressed her love for Maia in an unconventional way. Maia's interactions with her mother aren't healthy at all, but it's part of what makes this story interesting. 
Maia's relationship with her stepmother: True to the traditional Cinderella story, Maia's stepmother is "evil." However, in the book, Hodge reveals that she's this way because she also made a deal with the Dark Lord. Because of this deal, Maia's stepmother goes through the book being mean to Maia and her stepsisters and complaining about the "honor of the house." The stepmother's actions not only contribute to the drama of the story, but also, as mentioned above, contributes to the hardships of Maia's life.
Other: The way this story is structured it is clear that Gilded Ashes and Cruel Beauty share a universe, but it's unclear whether Gilded Ashes occurs before, during, and after Cruel Beauty. My best guess would be before or during simply because of the Dark Lord's appearance in Gilded Ashes and how the story ended in Cruel Beauty. It's not significant, but it's something that stood out to me.
Comparison to Cinderella:
Maia is worked like a servant.
Both of Maia's parents are dead so she's left in the care of her (evil?) stepmother.
Maia has two stepsisters.
Anax (the prince) uses an item of clothing to "identify" his future wife.