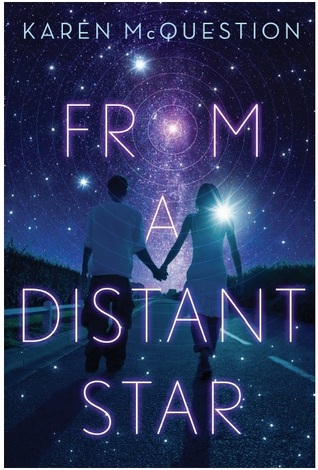 Karen McQuestion
Rate: 2.85 (Don't question it. Just accept this is how I feel.)
I received this book via Netgalley in exchange for an honest review.
This story in a nutshell:
The essence of an alien possess Lucas, Emma's boyfriend, and cures him of cancer.
But Emma wants her boyfriend back so she and not-Lucas, Scout, go on a road trip to get some help.
A lot of drama happens and they meet people, both good and bad, but it's YA so the story ends with Emma and Lucas riding off into the sunset.
What I liked about the story:
The ending

: I'm a sucker for a happy ending and for a moment it didn't seem like Emma was going to get hers. I like that things were able to back to how they used to be.

Scout

: Scout reminded me of Oh from the Home movie trailer. Everything was new to him, but still he learned and adapted to Earthen ways. I also loved that in the end, Scout understood that while his alien race may be intellectually superior to humans, humans are emotionally superior to the aliens because they feel a greater variety of emotions and feel them more intensely. It's interesting to see Scout grow as a person/alien during the book.
What I didn't like about the story:
Everything else

: Just about everything else in this book irked me. I knew from when the story began in the dog's POV that I wasn't going to love it, but I was going for a mild like. Everything from the events to the characters bothered me in some way so I found myself either sighing or rolling my eyes. I can't even pinpoint what exactly bothered me, but I didn't like it. The writing style wasn't bad so that's not a factor. But everything except the two points about caused me to give this story such a weird rating. Like I sat here trying to decide what to rate this book. I knew it was better than 2.75, but less than 3.00. Going down the number line, 2.85 just felt right.