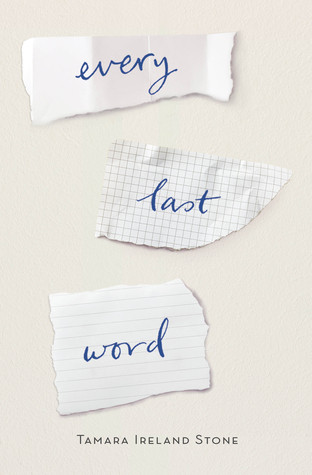 Tamara Ireland Stone
Rate: 4
I received this book via Netgalley in exchange for an honest review.
Sam: I loved Sam's character. Even though she's going through a lot, most of it internal, I still got to see her developing as a person and figuring out she was and wanted to be, even if that meant giving up her mean-girl friends. Sam's narrative offers great insight into what someone with Pure-O OCD might be going through. Sam is an admirable character.
Poetry: Not every poem in Every Last Word was a good poem, but some were amazing. I don't why I didn't think poetry would be included in the story when the premise said that Sam joined a secret poetry club, but I'm glad I didn't expectation anything because I was able to enjoy the poems for what they were instead of what I wanted them to be.
Rough start: The first chapter of this book seemed a bit irrelevant. This chapter occurs on Valentine's Day. The girls are making flowers as a fundraiser when suddenly Sam has an episode. She gets the urge to cut people's hair and her mother has to calm her down. This scene isn't bad and it shows the extreme negative side of Sam's OCD, which is very informative and helps to emphasize her internal struggle. My problem surfaced when the second chapter jumps to Sam at a swim meet, which occurs at the end of summer right before school starts again. From there, the story follows a natural progression where the story may skip hours or days, but never whole months. Because of the sequence the story follows from the second chapter on, the first chapter feels out-of-place. As if Ireland Stone put the first chapter solely to hook the reader and showcase the extreme side of Sam's OCD. Ireland Stone could have written a scene where Sam has these negative thoughts later in the story where the connection between the scenes and chapters would have been more fluid than where it's currently at in the first chapter.
Miscellaneous: Here are some other things that caught my attention.
Sam is obsessed with the number 3 and each chapter title (and the title) has 3 words.

I don't know if this happens throughout the book because I didn't notice until late in the story: Sam explains to AJ that she names her playlists by taking 3 words from a song that embodies the playlist. The three words from the chapter title also occur in the chapter similar to how Sam names her playlist.

The end has a twist involving Caroline and I so didn't see it coming. That twist completely blindsided me. It's not like it came out of nowhere, it made complete sense.
All in all, read this book. People who have OCD or have researched OCD may find some discrepancies I didn't notice (since I have no knowledge of OCD), but that shouldn't take away from the goodness of Every Last Word.