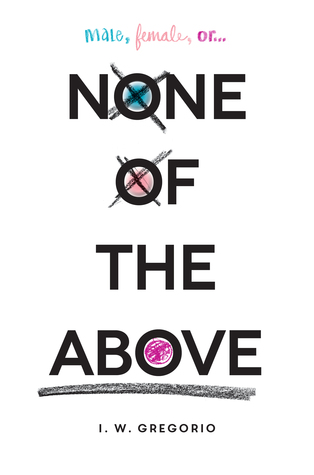 I.W. Gregorio
Rate: 2.75
Is this the best book I've ever read? No.
Is it my favorite book of the year? No.
Should you read it? Yes.
Why? Because there's not much fictional material (I'm not such about nonfiction either because I don't read that stuff if I don't have to) on LGBTQIA issues. #WeNeedDiverseBooks is beginning to open those horizons, even if, in my opinion, some of those books flop.
None of the Above is my first book with an intersex protagonist. That alone makes it a must-read. My problem with the story is that it takes on a tell approach instead of a show approach. I couldn't sync my feelings with Kristin, I couldn't feel her turmoil, because she told me how she felt instead of showing me. For example, and this doesn't have to do with the point of the story, Kristin would say that she reached her runner's high or barely broke a sweat instead of describing how her muscles/body felt while running, the relief or excitement she felt when she hit her high, and the light sheen that graced her skin post run. I just think that this story could've opened people more to the perspective of an intersex woman if it was more descriptive.
Another thing that bothered me about this book was the very YA ending it had. Throughout the whole book, Kristin was feuding with her two best friends, but after a 10-15-minute conversation, everything's forgiven and forgotten and Kristen's friends go to the club while she goes home. I'm not saying that Kristin should have held a grudge, but life is not that easy, especially over such an important topic such as revealing someone's medical history. On another note (about the YA-like ending), Kristin "falls in love" with "the guy who's been there all along." Again I'm not saying there can't be any romance, but really? She falls "in love"? With the only guy who's been nice to her throughout the book? Isn't this cliche overdone?
Anyway, you should give this story a try. It's not the most well-written story, but it is a new perspective.
Side Note: So all these YA cliches (not just in this book) have been overwhelming me so recently I've found myself not wanting to read at all. I still have a few Netgalley books that I need to read and review so it's not like I won't be posting, but this about after those books. I'm not sure if, after those few books, I am going to binge read new adult/ adult fiction stories or take a break from reading and blogging altogether. I'm announcing this now because I haven't been satisfied with the quality of my last few posts so in case the next few get worse and then all of a sudden I'm not posting for days you'll know why.