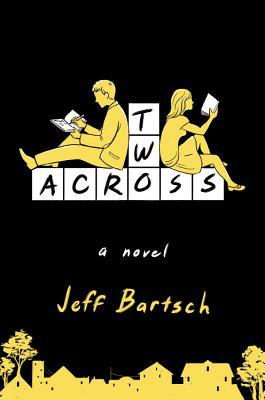 Jeff Bartsch
Rate: 4
I received a copy of this book via Netgalley in exchange for an honest review.
I enjoyed Two Across more than I expected. I became wary of the story when I first started reading and realized it was historical fiction – I don't like historical fiction – but history doesn't play a large role in the story so I was able to keep going. To me, it seemed like the few historical events that were mentioned were only meant to be points where the reader could center his-/herself to the date since so much was going on. The story focuses on Stanley and Vera's relationship not their opinion of current events so historical events don't play a factor in the progression of the story. For the most part, the story could have taken place in current times except the existence of the internet would have made it easier for Stanley and Vera to track each other down and would have made the theme of the crossword obsolete.
What I liked most about Two Across was that it was unlike any other new adult novel I've read. Though I haven't read many so that's not saying much. What stood out to me though was the fact that the story revolves around Stanley and Vera's relationship and yet there's barely any romance. Vera and Stanley are both geniuses, but they are also both emotionally inept so, to a degree, it makes sense that they would be unable to express their feelings and fully understand how they feel for each other. Sure, parts of the story feels like a stereotypical rom-com with Vera repeatedly running away from Stanley, but for two people who were taught to know and not taught to feel it makes sense. Yet even without Vera and Stanley being all lovey-dovey like a typical YA or new adult novel, I could still sense how much they cared for each other, which made the story a good read.
Overall, Two Across was a good read. Even though I had to consult a dictionary a couple of times – I'm neither a genius nor a crossword solver – I liked how the story unfolded, especially since it was different from what I've gotten used to.