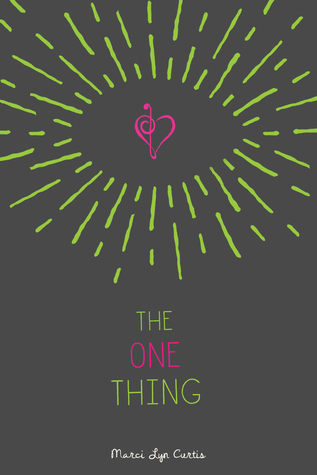 Marci Lyn Curtis
Rate: 4
I received an e-copy of this book via Netgalley in exchange for an honest review.
What I Liked
Ben and Maggie's Friendship: I enjoyed that The One Thing was centered around Ben and Maggie's friendship. Often YA stories focus on romantic relationships, but this one centered on friendship. A friendship that didn't turn into a romantic relationship! Because of the age difference. Plus, I liked that Ben and Maggie's interests weren't identical. They introduced new things to each other and just enjoyed spending time together; Maggie didn't spend time with Ben because it was socially acceptable or she was growing out of her friends. Even though there were times Maggie spent time with Ben for self-interested, self-destructive reasons, for the most part, she was a real friend to Ben.
Maggie's Character Development: I can't even begin to imagine how I would react if, like Maggie, I lost my eyesight and had to relearn how to live. That's why I enjoyed Maggie's development so much. Sure, in the beginning, she kept setting herself back and wasn't trying to acclimate to her situation, but I'm sure I would've reacted similarly. However, over time, Maggie realized that she was her own obstacle and that if she tried, things would eventually get better. As an added bonus, it didn't take a boyfriend or crush for Maggie to come to this realization. (Yeah, the repetitiveness of YA is starting to get to me so I had to point it out.)
What I Disliked
Romance: I don't think Maggie and Mason's relationship was necessary in The One Thing. I understand Maggie having a crush on Mason, but crushes rarely make sense anyway. However, I didn't understand how Maggie developed feelings for Mason when they rarely interacted and he didn't say anything to her. It felt like Curtis added the romance as part of a YA checklist instead of as a naturally developing, useful romance. The One Thing would've have progressed just as well if Maggie and Mason didn't get together.
Maggie's Partial Sight: The story is centered on Maggie getting back some of her sight when she sees Ben. This partial sight is also part of the obstacle in Maggie's development. I didn't mind the sight too much. My only problem was the lack of explanation. I was just supposed to accept that Maggie bangs her head and then suddenly she can see certain people. Curtis doesn't even attempt to explain why Maggie gains this ability. I get that an explanation would have pushed the story from realistic fiction to scifi or fantasy, but I still don't like that I had to accept such a big detail without a real reason.
All in all, The One Thing is good for fans of The Fault in Our Stars. The protagonist is battling a medical condition and herself. However, unlike TFIOS, there's more friendship than romance in The One Thing (at least in my comparison of the TOT book to the TFIOS movie). Additionally, it's great seeing Maggie come to terms to her life without sight, which is a huge change to adjust to.